YfooCollector here back with another JAV news recap and August has a lot of exciting news as well as big changes to FANZA and R18, however I do have start this article with an important announcement.
---
Early in August, the management of Kana Momonagi, Ai Uehara and Yui Hatano warned that NFT project dubbed "Jav Porn Token" has infringed on the copyright and image rights of the actresses in their promotion material. Jav Porn.net is not involved in any capacity with this Jav Porn token. The "Jav Porn" name seems to come from the fact that the people behind this token got Toru Muranishi, the Naked Director, as an ambassador. 
FYI: this has NOTHING to do with us. Most likely someone is using "Jav Porn" either simply because it means "stark naked" in Japanese or because it's increasing in popularity due to the Naked Director (called "Jav Porn Kantoku" in Japan). https://t.co/zTuKoJeWSW


— Jav Porn SUBTITLED JAV (@Jav PornMANIAC) August 3, 2021
Even with the Jav Porn Token debacle was early on in August, NFTs have still taken the AV industry by storm as we saw several actresses launch their own tokens. Yua Mikami, Suzu Honju and Anri Okita all launched their own NFTs this August. I don't really have any opinions on NFTs and these types of projects. I would just like to advise you that if you do decide to support actresses via their NFT projects, just make sure that these tokens are acknowledged by them.
---
FANZA has changed the release schedule for upcoming films from Fridays to Tuesdays. I tried to list the schedule changes below but to be completely honest it was hard for me to track the changes. The problem with trying to report on this schedule change is that there was no official statement about this. There is no certainty if this is a permanent change, and there are no statements for the reasons behind this change.
| | |
| --- | --- |
| 1st Tuesday of the month | Attackers, Wanz Factory, MOODYZ, kawaii, Fitch |
| 2nd Tuesday of the month | S1, Idea Pocket, Madonna, Das |
| 3rd Tuesday of the month | EBODY, Fitch |
| 4th Tuesday of the month | S1, Honnaka, Das, Madonna |
The new FANZA Information release schedule that I was able to note down. 
There is little information about this, however I would still like to speculate on the reasoning behind these changes. My wild guess is that the schedule change in JAV is related to a possible change in the financial processes of AV companies and/or Fanza. There is a theory that entertainment industries, like the video games for example, commonly release their products on Tuesdays as the sales reports are released on Mondays. Releasing products on Tuesdays would give publishers the most time to work out problems in either distribution or the product itself. The extra time between the product release and the sales report also gives publishers ample and consistent data for their analysis. There are exceptions to this theory however, like movies where the opening weekend is the most important data point more than anything. I would like to reiterate that this is just my pure speculation as I have absolutely no official information or insight on this topic.
As for R18, they implemented major changes to the product pages for the website. They had redesigned the product pages to have a cleaner design. A new feature to the product page is a separate bar that has the title, cover image, actress name and pricing details that follows you as you scroll down the page. The changes also brought in larger thumbnails and video previews as well as collapsible portions that hide/show information. Another quality of life improvement that added was the website no longer taking you back to the homepage if you sign-in from a product page.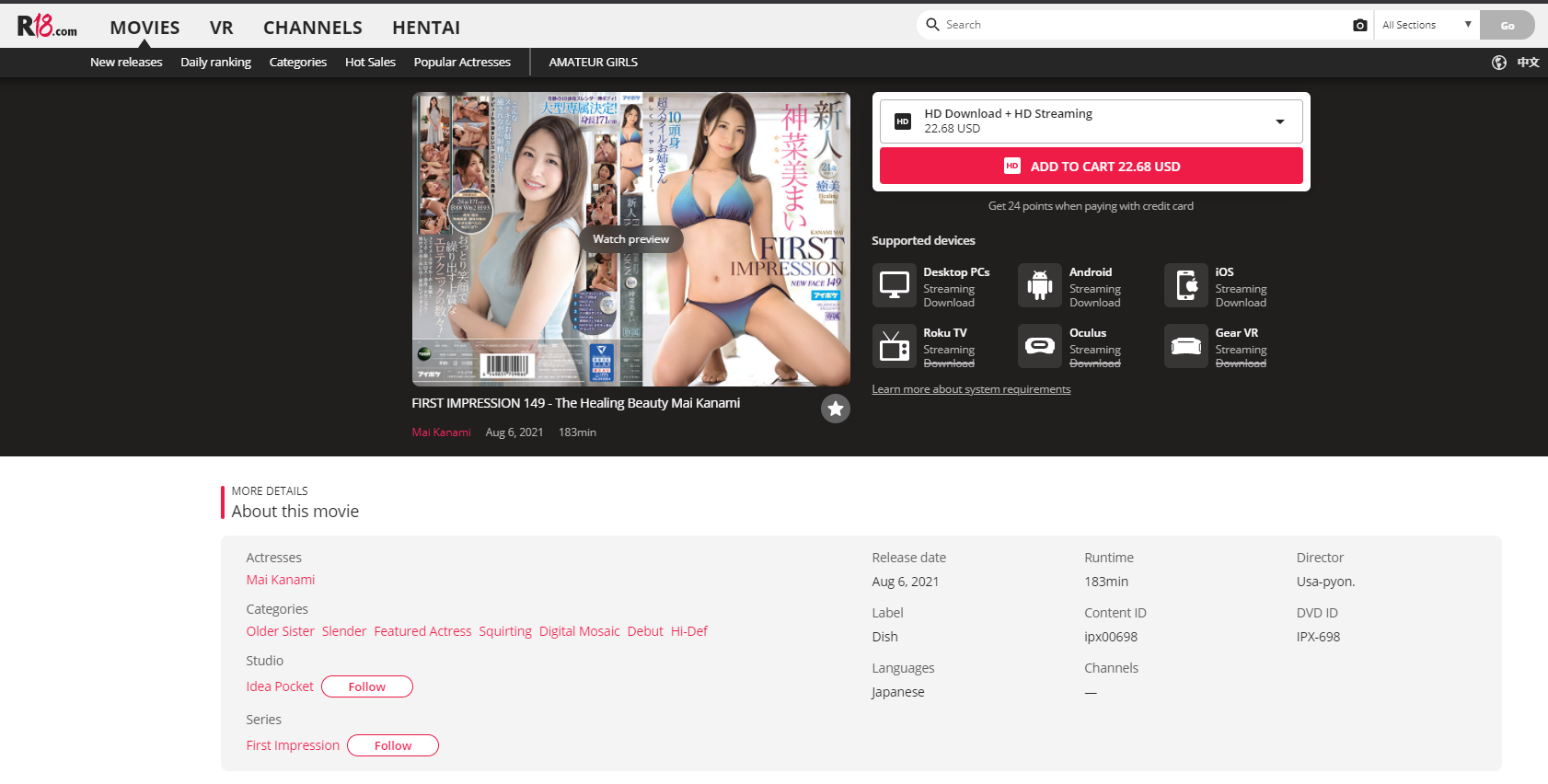 Sample screenshot of the redesigned product page
Overall these changes were made to modernize make the website more accessible and in my opinion these changes are great, even if there are still some problems such as not being able to view trailers in HD. I especially like how the new website doesn't make the product page unusable when my phone is in landscape mode. R18 also added the feature to "follow" studios and the new series category which they have rolled out in the last few months. R18 has also stated that they wanted to make the website more accessible across different types of hardware and improve overall viewing experience, and with the changes I believe they have succeeded and hopefully they could reach a wider audience. 
---
Aside from JAV another type of Japanese media I enjoy was the Tokusatsu genre. Tokusatsu refers to live action films/series that heavily use special effects such as monster movies like Godzilla, mecha like Super Robot Red Baron and superheroes such as Kamen Rider and Super Sentai. The Super Sentai series, more commonly known as Power Rangers internationally, is a long running series based around a superhero team fighting evil. I was a huge fan of Super Sentai until a few years ago where I think I just grew out of it. However I still do check up on the series every now and then, and this month I was surprised to see two of Faleno's actresses, Yume Nikaido and Moe Amatsuka, was part of the cast in the Super Sentai Spin-off Yodonna.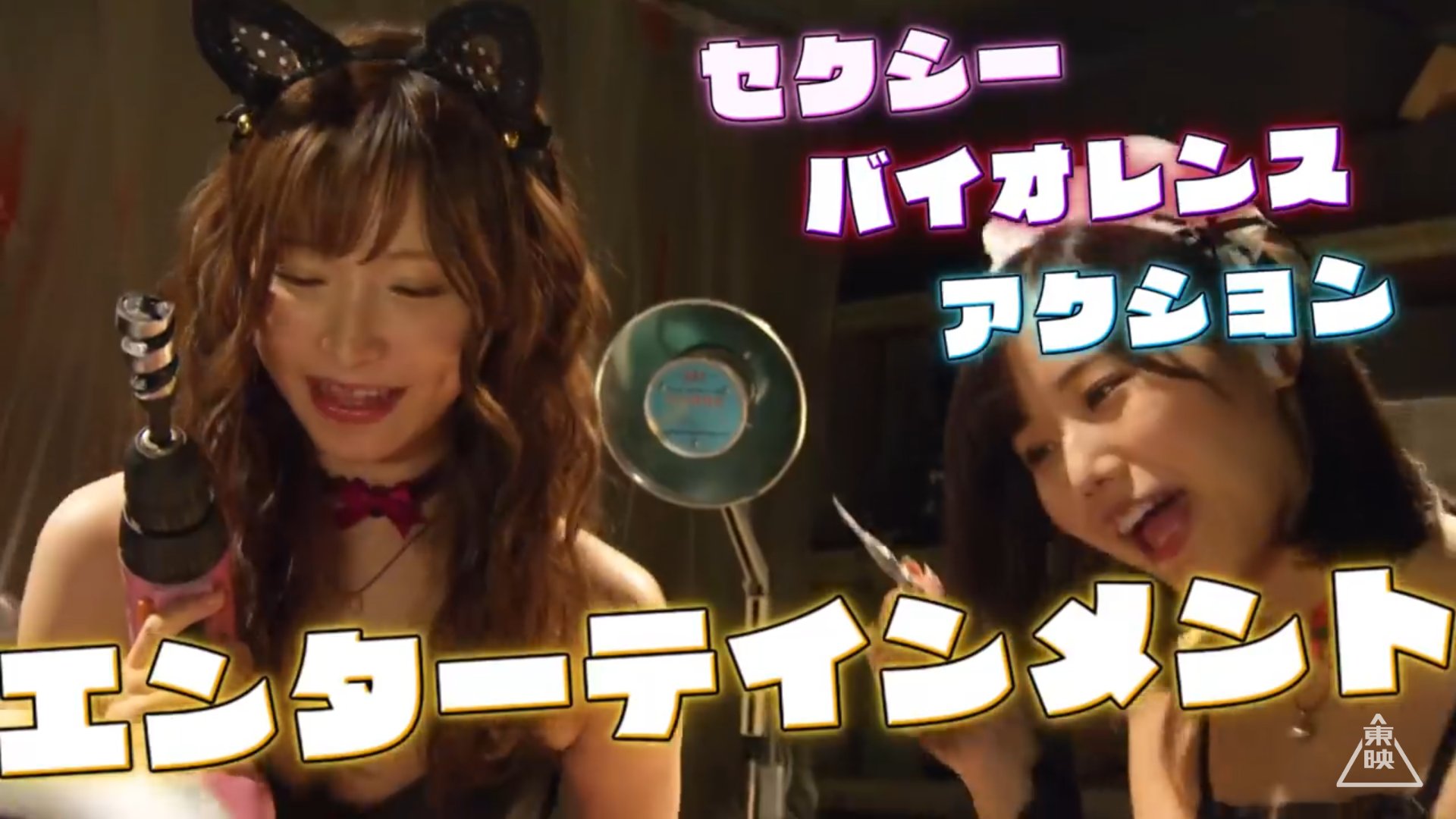 Screencap from the promotional video of Mashin SentaiKiramager Spin-Off: Yodonna
Super Sentai and JAV had always had a close relationship. Studios like GIGA have been producing been producing Super Sentai themed JAV and more recently a youtube only show for years now and the Super Sentai series also casted AV actresses, mostly as villains, during the 70's and 80's. However, over the years the Super Sentai series strayed away from casting AV actresses, at least from my knowledge, and placed non-nude gravure idols and cosplayers in those roles instead. That is why I was so amazed to see Faleno's actresses in the spin-off Yodonna.
[JMSZ-95] Marina Saito starring in a Super Sentai themed JAV by GIGA
Yume Nikaido plays ichigo daifuku and Moe Amatsuka plays Macaron in the show and they are maids that lure people into the secret organ harvesting operation of the maid cafe they are working for. They only have minor roles and one fight scene as the rest of the other actors were doing the fighting but it was still fun to see them in the show. It was also a bit surprising for me to find out that this tv special was an exclusive to the Toei Tokusatsu Fanclub streaming service. Another thing that surprised me was that there were some mature scenes in the episode such as blood, actual death and even a lesbian kiss between the main characters.
Moe and Yume getting beat up in a fight scene
Overall I found the spinoff to be very entertaining but what I'm more interested to see if more people from the AV industry would appear in Tokusatsu series. The Toei Tokusatsu streaming service has been around since 2015 but only recently have they started producing exclusive shows such as this one. With the creative freedom of a show being produced exclusively for a streaming service I believe that more castings like this are on the way. On a related note, Yume Nikaido tweeted that she will be taking a break from streaming for her YouTube channel, however she did not say anything about her setting all her videos to private.
---
There were a lot of birthdays and anniversaries this month and I will no longer be writing them down in this section unless there is a significant milestone or a headline worthy announcement along with the celebration. 
Social media and other news
Late last July Airi Suzumura posted a couple of cryptic tweets then suddenly deleted all of her social media. There is no information about the incident except for this tweet by her agency.

Nanami Kawakami to pursue acting after retirement.

Aoi Kururugi and Mai Kagari launch their pachinko and slots YouTube channels. 

Yu Shinoda warns fans of fake instagram accounts, she does not have any account on the platform.

Suzu Honjo and Yuna Ogura start a podcast, it is a show where they discuss listener submitted stories

Abe Mikako launches her own apparel line.

Aya Sazanami has been very active in social media recently, she even started a YouTube and Tiktok, but she denies that she is returning to the industry.

8manpro celebrates their 15th anniversary with the 8woman photo books. These gravure photo books featuring 8 of their premiere actresses listed below. Notably Rara Anzai is not in this project even though she is one of their most popular actress. 

Tsukasa Aoi, Nene Yoshitaka, Suzume Mino, Mei Washio, Tina Nanami, Kaname Momojiri, Ruru Amakuni and Madoka Kurumi.
Transfers and Revivals
Retirements and Announcements


Shoko Akase retired, unfortunately the announcement tweet was deleted.

Mako Iga graduated from S1 with SSIS-186. Since this was billed as a graduation, I'm guessing she will comeback maybe with a different name like Ruru Amakuni.

Yui Nagase has announced on her instagram story that she will retire at the end of the year.