Trapstar here, reporting live from Jav Porn headquarters. Bringing you the latest buzz in the Twitter JAV space in recent days.
Seems like the JAV gods have been ungracious towards us fans lately. Now with more actresses taking the exit route, this comes as a blow for most JAV fans who despite all the claims are super loyal to their AV idols. Shoko Takahashi being the latest addition to the club, announced her retirement over the SNS platform Twitter.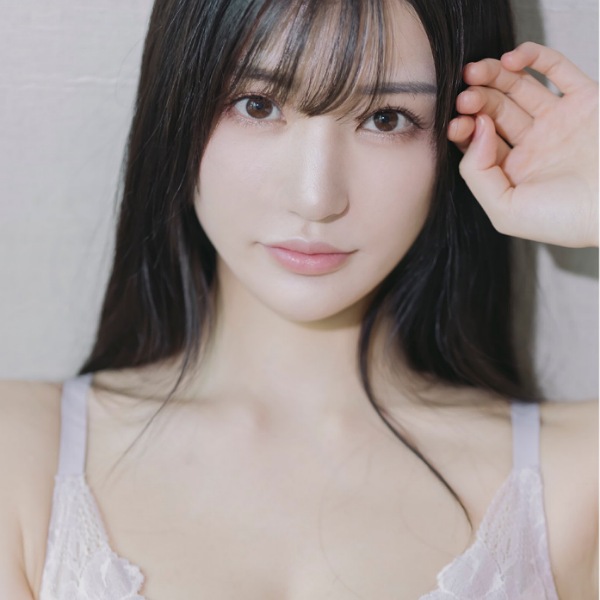 ​​​​​The Actress Announced Her Retirement On April Fool's Day
On April 1, the 28 year old actress took to the platform, posted a statement accompanied with quite an intimate photo from her past shoot announcing her retirement from the adult industry. 
On the onset of her fifth anniversary in the industry, the MIDE-990 actress was quoted saying,
"Thank you for your support. I think you will be surprised by the sudden report, but this time Shoko Takahashi will retire as an AV actress at the turning point of the 5th anniversary of her debut ."
"Regarding the circumstances that led to her retirement, she decided to retire because she wanted to take good care of her own body, considering the risk of continuing to shoot AV in the current world." the MOODYZ actress clarified the intention regarding her decision
Since the announcement came on April 1, most of her fans were speculative of the fact that this was some kind of April Fool's prank but the actress dismissed the rumors by stating, 
"It will be a sudden announcement, so get married! ?? I'm sure some of you think, but unfortunately it's neither marriage nor pregnancy!




It's not an April Fool's lie …!"
Shoko in her final testimony wrote,
"For 5 years, I took various pictures as an exclusive actress of MOODYZ. Each piece was memorable and I enjoyed shooting. Looking back, there were some shoots that lasted until midnight, and some shoots that made me sick due to physical fitness. Still, with the support of the fans, I did it to the end! I was able to feel." 
While, also disclosing the date of the final release of her work with studio MOODYZ to a million fans,
"It is a retirement work that was finished shooting at the end of last year, but it will be released on May 3, and if there is anything, I will continue to report on SNS" (twitter).
It is possible that Shoko was concerned about her well being as a result of the current conditions that have taken a toll on the AV world, but we at Jav Porn believe that the actress was concerned more about her physical health based on what appeared to be an indication from her retirement post. Several AV stars have gone down a similar path in the past, citing health difficulties as a result of recurring schedule of lengthy shoots.
However, one line that caught our eye from the tweet, 
"There are many people around me who are feeling sick" which could ring an alarm bell among fans regarding the safety standards being followed while filming AV scenes are upto appropriate standards or not. JAV actresses in the past have taken the exit course citing similar reasons.
Whatever be the motive behind the retirement, Shoko made sure to express gratitude towards her loyal fanbase who showered her with immense affection in the last couple of years while also reflecting on her initial days in the industry and humble beginnings that propelled her into a global sensation,
"I will never forget the memories I made with you. An unknown girl from the countryside went to Tokyo just to become famous and kept running crazy, and she has been doing her best for years.




When she noticed, she was surrounded by so many kind fans. She never thought she would be able to support her. Thanks not only to her own strength but also to everyone's support, I was able to do my best!




Look at my work once in a while and remember me. And please spend your days full of energy. I hope you can say goodbye to everyone with a smile! I am truly grateful for the opportunity to express myself a lot. Thank you everyone for your support for a long time"
The 28 year old actress who debuted under the MOODYZ banner in 2016, was quick to gain the limelight in her AV career spanning over five years featuring in hits over multiple genres. While her fans may be disheartened over the retirement news, I guess they won't miss her much as the actress boasts a fan following of over a million on her Twitter, which is unlikely for an AV actress but also goes to show the foothold she had grabbed over the industry in her career spanning over five years. 'Takasho' as she prefers being called, has garnered a similar figure of followers on the photo sharing platform Instagram, as well. often sharing glimpses of her work & life with the huge fan base she has ammased.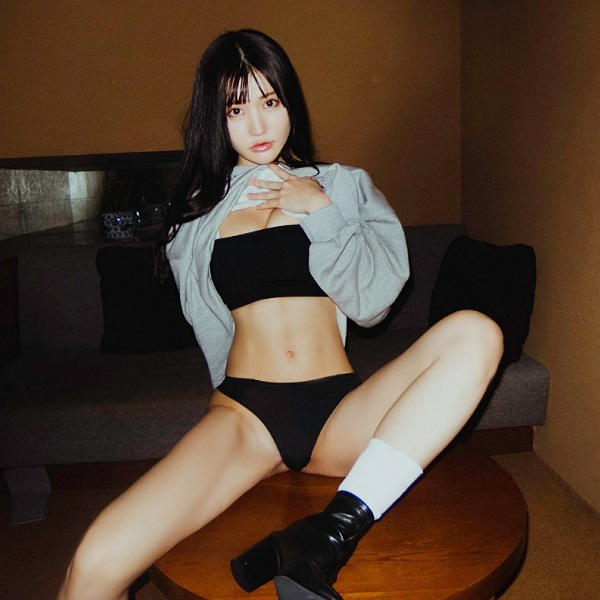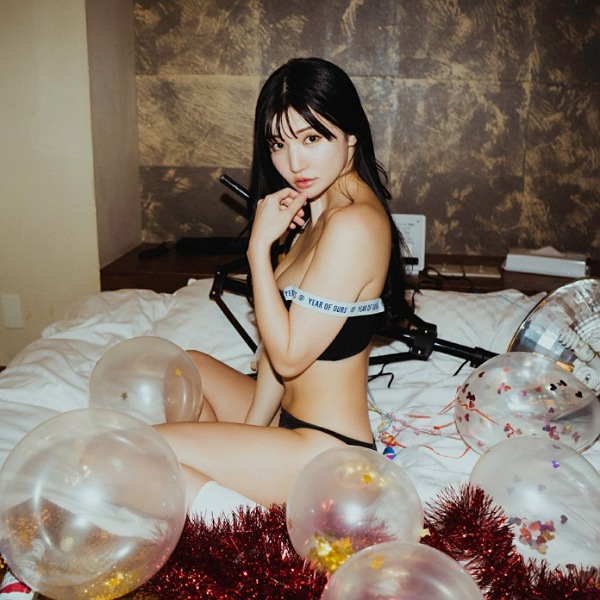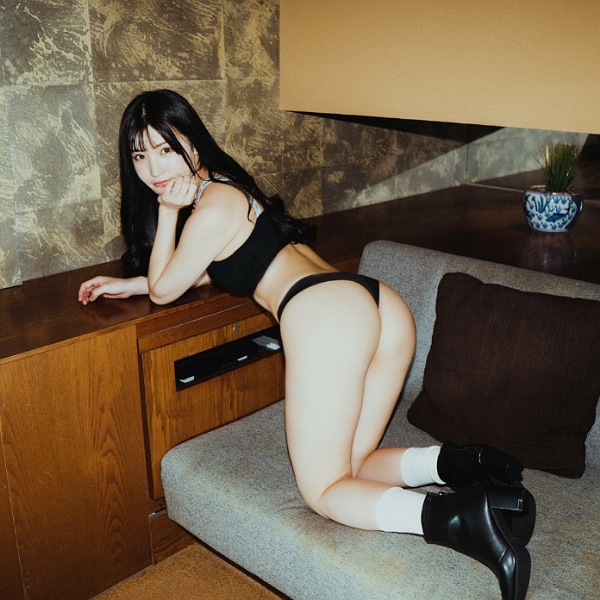 Stills From Shoko Takahashi's Instagram
MIDV-099 | Retired G cup Perfect Body AV Last Sexual Intercourse Shoko Takahashi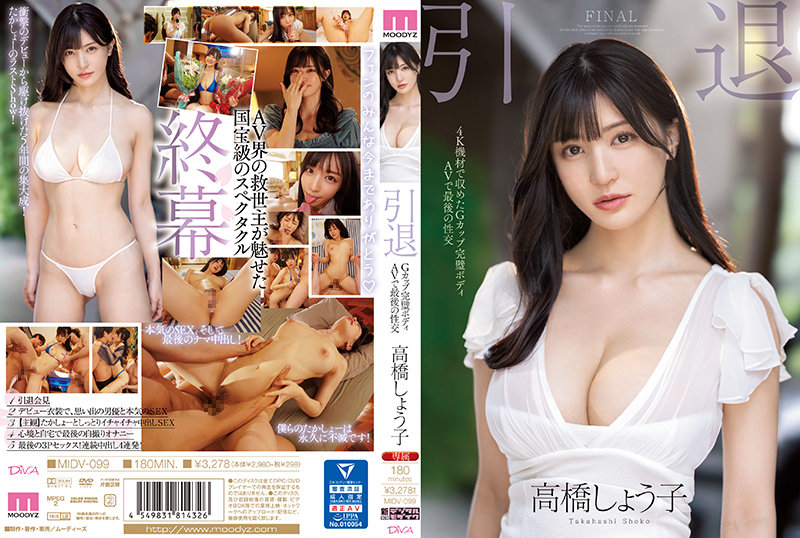 Notable from the trailer that was released by MOODYZ over the past week, the actress is seen in a press interview setting while camera flashes light up her face simultaneously. The minute long trailer concludes with close ups of the actress from various scenes, with the camera eventually panning on an emotional Shoko. A great farewell would include stalwarts of the industry and rightly so, MOODYZ hasn't left a stone untouched. In a follow-up trailer released by the Japanese studio, the fans get to witness industry veterans like Shimiken and Ken Shimizu featured along side the actress.
Following her retirement announcement, the bikini clad actress put up a video message for her fans on the SNS platform. The clip has since gone viral in which Shoko can be seen expressing gratitude to her admirers, while also addressing future endeavours outside the AV world. 
In response to a farewell tweet by studio MOODYZ, with whom she had a brief stint, over the last five years rolling out multiple hits over time, Takaso-san tweeted,
"Thank you for your support for a long time! At the beginning, I wasn't confident, and I may have caused some inconvenience at the site, but as the staff kindly supported me and took more pictures, I became more and more confident. It was really nice to be able to complete an AV actress exclusively for MOODYZ! thank you!"
Shoko Takahashi's retirement title will release over the midweek and judging by the trailer it seems equally enthralling like majority of her works. Fans waiting for her retirement work could also grab the photobook titled 'Takasho Last Show', in the meanwhile. Shoko features as the cover model and looks enchanting judging by the pics. For the international fans, a library of her previous works can be accessed on R18.
MOODYZ will release the retirement title via R18 and it goes on sale on May 3. If you're a die-hard Shoko Takahashi fan, keep an eye out for this title, as it'll most likely be the final one you can get your hands on.
---